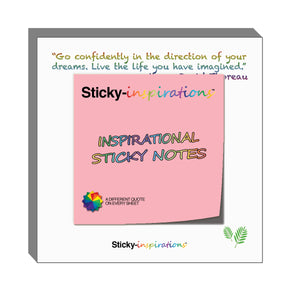 In honor of breast cancer awareness, we created the LIMITED EDITION PINK LABEL to celebrate the strength, courage and indomitable will of all those engaged in this fight. For every Pink Label sold, a portion of proceeds will be donated to the Breast Cancer Foundation.
Showing up is more than half the battle. Anyone whose life has been touched by Breast Cancer knows very well that your mindset is as important as any physical treatment. With that in mind, these sticky notes are designed to lift up, inspire, excite, and motivate breast cancer patients, survivors, and their loved ones to cherish each day, to keep fighting, and to know above all that they are appreciated, valued and loved.
Each pad has 100 sheets with a different inspirational message and plenty of room to write. White, 3x3 inches, 100 sheets per pad.